GLASS BEDDING RIFLES.
HOW TO GLASS BED RIFLES.
PILLAR BEDDING FOR ACCURACY.
Instructions in how to glass bed rifles.
Glass Bedding rifle is to improve accuracy of rifle.  Can also be named the foundation of an accurate rifle. There are many things that need your attention. Quality rifle barrel and cleaning of the rifle bore, stiffness and quality of the bolt action mechanism, precision glass bedding of barreled action into stock, a good and well adjusted trigger, good scope mounts, rifle scope of quality, and hand loaded ammunition. And not the least, professional making of all parts, assembly of rifle, and glass bedding rifle.
The most effective improvement a rifle shooter can do to improve his rifle accuracy is glass bedding the rifle, this means glass bedding the barreled action properly in stock, with two part epoxy compound, like Bisonite, Devcon, Acraglas, Micro bed, Marine Tex, or other quality two parts epoxy compounds.    Which all rifle shooters can perform, given good rifle bedding instructions as outlined in the Rifle Bedding Book. I personally like to work with Bisonite bedding compound, and have for over 40 years. Rifle no matter the accuracy level it delivers in un bedded state, will improve its accuracy and overall performance with epoxy glass bedding  barreled action into stock. For rifles, the term for stock inletting is used to describe the overall process, which some define as, floating barrel, action bedding, or stock bedding. Pillar method is a special process in rifle bedding. I have over 40 years experience in this bedding method. There is NONE better! I have one rifle I made myself, that broke a 20 year old world record in Heavy Bench Class 1988 at IBS Nationals in Ohio USA, which is pillar bedded, and still shooting the same! Rifles from manufacturers such as, Remington 700, Ruger, Winchester, Savage, Browning, Mossberg, Marlin, Howa, Harrington & Richardsson, Weatherby, Sako, Tikka, Mauser, Brno, Colt, Sig Sauer, Voere, Anchutz, Walther, Beretta, Taurus, Steyr, and all other bolt action rifle types, will benefit improved accuracy by glass bedding barreled action into stock, with pillar bedding method. Period!
Glass bedding rifles utilizing pillar bedding method increases accuracy sometimes by up to 150 %  in smaller group size. For example a rifle shooting 1 to 1.5 inches at 100 Meters/yards may give you 0.500 to 0.750 inch groups after bedding, and even better! Rifles that are performing better in un bedded state will increase accuracy, as an example from 0.500-.750 inch groups and go down to 0.200 to 0.350 inch, 5 shot groups. Think about the potential this will give you at longer ranges, lets say out to 500 yards/meters or further out ?   Dramatic improvement in accuracy with glass bedding  rifles, bolt action.
---
By clicking Buy Now Button, you will continue to the
checkout page where payment will be taken, and your order fulfilled by FastSpring, our trusted reseller, and Merchant of Record.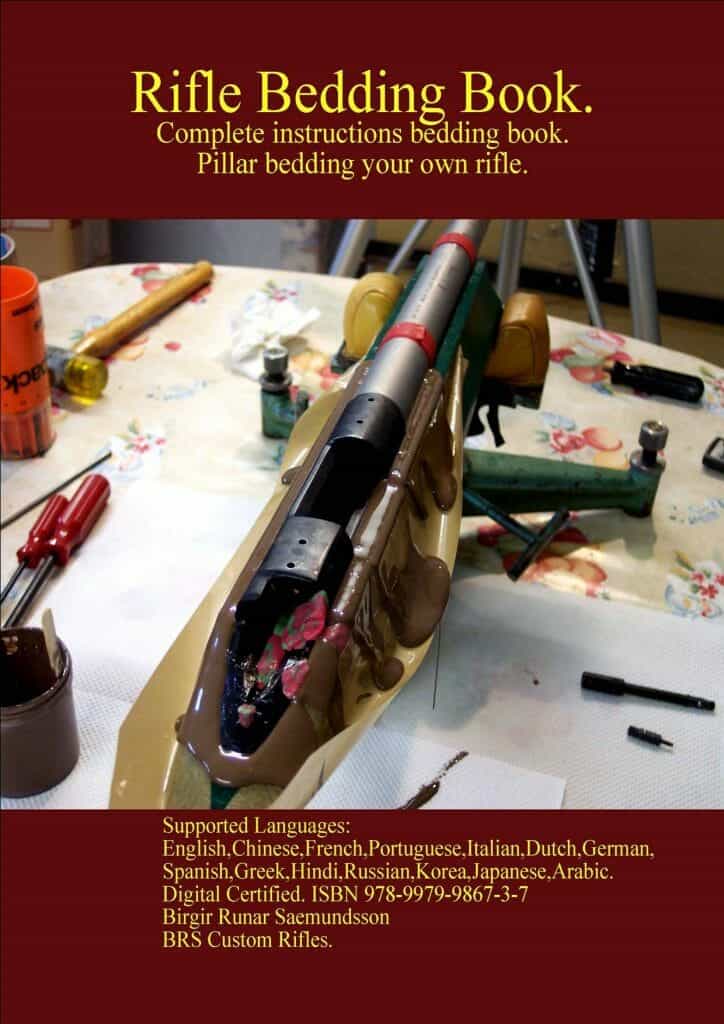 Supported Languages: English, Chinese, French, Portuguese, Italian, Dutch, German, Spanish, Greek, Hindi, Russian, Korean, Japanese, Arabic.
Rifle Bedding Book is an Adobe pdf. 149 pages, E-Book. ISBN 978-9979-9867-3-7
Copyright 2008. Digital Certificate.  Birgir Runar Saemundsson. BRS Custom Rifles.
Clear and illustrative instructions step by step, of rifle bedding, the pillar bedding process.
Glass Bedding Video introduction.
The Rifle Bedding Book is an Adobe PDF E-book, with clear, comprehensive and descriptive photographs and instructions and guidance, in how the average rifle shooters can professionally glass bed their rifles. Resulting in improved rifle accuracy and consistency. The only thing needed is a Glass Bedding Kit, few common tools, battery drilling machine, wood chisels and sandpaper etc. And good instructions which are in the Rifle Bedding Book. Easy to follow instructions step by step of a glas bed method that has been over 40 years in use. The most accurate rifles for Precision Bench Rest shooting competition, are glass bedded by this pillar bedding process. This rifle bedding, is used for varmint rifles, hunting rifles, tactical rifles, and target rifles. To you dedicated rifle shooter,"Only accurate target and hunting rifles are interesting, and worth owning and shooting". Do you agree ? The rifle glass bedded in this Rifle Bedding book, is Remington 40X-BR from Remington Custom Shop. For illustration purposes. Same bedding instructions and process in work, is used for Remington 700, Rurger M77, and other bolt action hunting rifles, tactical rifles, varmint rifles with or without magazine, and bench rest rifles. Glass Bedding rifle, is simple to do, with the easy to follow instructions in the Rifle Bedding Book.