DOUBLE ACTION SILENCER.
HOW TO MAKE A DOUBLE ACTION SILENCER.
SILENCER AND MUZZLE BRAKE COMBO.
Double action silencer and muzzle brake combines the effective work ability of a gun silencer and muzzle brake. BRS Custom Rifles have succeeded in making a one piece single unit, by combining recoil reducer and sound suppressor, Gun Silencer and Muzzle Brake, for rifles and pistols. With double action silencer muzzle brake, great many problems are solved,  until now gun shooters, rifle and pistol, varmint hunters and big game hunters, had the only option of having either silencer or muzzle brake, installed on their guns, so they had to choose either one.  Now this problem is solved, with the Double Action Silencer Muzzle Brake. This unit is excellent as a rifle suppressor and as a pistol suppressor.
The instructions are clear and straightforward to understand and execute, so you can make this yourself with necessary tooling. Complete instructions of how to fit the unit to muzzle end of the barrel of rifle or pistol. Or get a qualified lathe smith or gunsmith to make it for you. The Muzzle Brake takes out up to 50 % to 60%, off the rifle and pistol recoil. The gun silencer completely silences sound, with subsonic ammunition which is under 1087 f/sec , or  331 m/sec. muzzle velocity.

Complete Muzzle Flash hiding! Which makes this Double Action Silencer Muzzle Brake, ideal for many kinds of special police, tactical rifle and varmint rifle and hunting projects. Reducing recoil and as a sound suppressor. Recoil reducer and gun silencer in single unit.
Double Action Silencer Muzzle Brake manual outlines plan with drawings, for rifles and pistols in      cal.22 lr ,22 mag, 22 Hornet cal.222 Rem, cal. 222Rem, cal.22/250 Rem, cal.243 Win, cal. 6MM,              cal. 25-06, cal. 6. 5MM, cal. 7mm Rem Mag, cal. 308 Win, 8MM Rem,300 Win Mag,  8MM Rem, cal.338 Mag. cal.375 Mag,  cal. 458 Win Mag, cal. 460 Mag.  And larger magnum rifles.
Pistols and single shot handguns, can be utilized with Double Action Silencer and Muzzle Brake Combo. And larger calibers of big bore for pistols, Caliber like .25 ACP, 7.62 Nagant, 7.62×39 Russian, 7.63x25mm Mauser 32 ACP, 30 Luger, 9 MM Luger, 9×18 MM Makarov, 9 MM Japanese, 9 MM Mauser pistol,357 Sig, 38 S&W Long, 38 Special, 380 ACP,375 Magnum, cal.40 S&W,41 Acton Express,10 MM Norma,   44 Magnum,45 ACP, 454 Casull, 460 S&W, 500 Smith Wesson.  And more pistol calibers.
By clicking Buy Now Button, you will continue to the
checkout page where payment will be taken, and your order fulfilled by FastSpring, our trusted reseller, and Merchant of Record.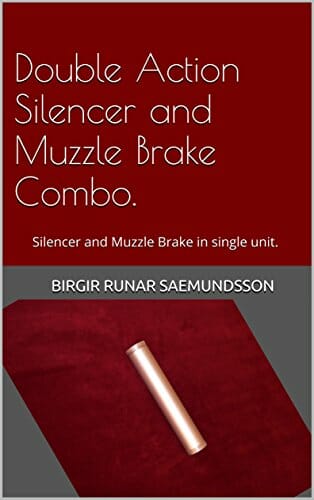 Supported Languages:
Chinese, Dutch, French, German, Greek, Italian,
Japanese, Korean, Portuguese, Russian, Spanish, Arabic.
NOTES ABOUT GUN SAFETY!
NEVER LOAD LIVE AMMUNITION INTO CHAMBER
OF GUN,UNLESS YOU ARE GOING TO FIRE THE
NEXT INSTANT! IF YOU CANCEL FIRING,
UNLOAD GUN IMMEDIATELy.